Coronavirus (COVID-19)
You may use this if asked for a statement and/or refer anyone to OHLA.
---

COVID-19 Frequently Requested Articles/Contents:

- COVID-19: Hotel & Lodging Update State stay at home order contains hotel EXEMPTION
---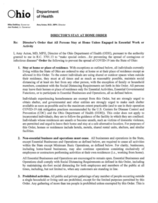 The State of Ohio issues widespread "stay at home" Order, hotel & lodging businesses to be classified as essential and therefore exempt.
The order is in effect from 11:59 p.m. Monday March 23 until April 6.
The Order contains a provision for "Essential Businesses and Operations" which includes "hotels and motels."
The Order states specifically that the exemption includes "hotels and motels, to the extent used for lodging and delivery or carry-out food services."
- Hotel Industry Data Update
---
OHLA is working every day to help produce the best possible outcomes for the hotel industry & its partners. We want to keep you informed of the most up to date data and resources available to help you plan for the future.
See the latest critical new market information on the prospective COVID-19 impact on the state of the hotel industry from OHLA Partner CBRE. Updated 4/24/20



See Our Additional Resources

---
FOR MORE INFORMATION
Contact Ohio Hotel & Lodging Association at 614-461-6462 or info@ohla.org