Coronavirus (COVID-19)
---
Impact of State Orders on Hotel & Lodging Environment


COVID-19: Hotel & Lodging Update State stay at home order contains hotel EXEMPTION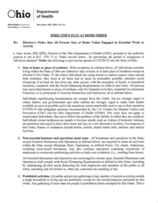 State of Ohio issues widespread "stay at home" Order, hotel & lodging businesses to be classified as essential and therefore exempt.
In today's briefing by the Governor and the Director of the Ohio Department of Health, state government has issued an Order which requires Ohioans to largely stay at home and avoid travel.
The order is in effect from 11:59 p.m. Monday March 23 until April 6.
The Order contains a provision for "Essential Businesses and Operations" which includes "hotels and motels."
The Order states specifically that the exemption includes "hotels and motels, to the extent used for lodging and delivery or carry-out food services."
Previous Orders given by The State of Ohio & The Ohio Department of Health regarding COVID-19 can be found below:
Order to Limit and/or Prohibit Mass Gatherings in the State of Ohio
Order Limiting the Sale of Food and Beverages, Liquor, Beer and Wine to Carry-out and Delivery Only
Amended Order to Limit and/or Prohibit Mass Gatherings and the Closure of Venues in the State of Ohio
---

See Our Additional Resources

---
FOR MORE INFORMATION
Contact Ohio Hotel & Lodging Association at 614-461-6462 or info@ohla.org