MARK YOUR CALENDARS!
2017 OHLA Annual Conference & Gala
November 20-21, Columbus, OH
THE STORY OF US
Hyatt Regency Columbus Downtown and the Greater Columbus Convention Center
RECAP: 2016 Ohio Conference on Travel = Huge Success

To recap the highlights of the combined Ohio Travel Association and Ohio Hotel & Lodging Association's Ohio Conference on Travel is to talk about what we offered our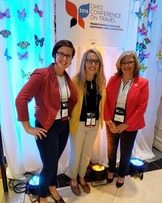 membership through the span of October 26-28. The combining of Lodging and Tourism professionals not only showed the power of numbers, but the strength of Ohio's Travel Economy. This year's conference was BIGGER and BETTER than ever! The Ohio Travel Industry Gala Dinner kicked off the events and nearly 500 excited attendees packed the glowing room and cheers were loud for the deserving nominees and winners!
Both organizations chose educational topics to provide to the diverse group of over 600 total Tourism industry attendees. Top speakers, both local and nationally known, gave this year's attendees the most current industry and operational information. Attendees listed to topics including Mastering Hospitality Communications, Tourism Improvement Districts, Travel Trends and Forecasts, Redefining the Female Traveler, Data Security, Guest Eye View, Operational Security and The Professional Customer Approach. Women in Lodging's Leadership Breakfast was a huge success along with keynote presentations from TourismOhio, U.S Travel and Mindset Digital.
OHLA would like to thank you, our members for all your contributions to make this year's Annual Conference an invaluable aspect of membership. We look forward to your input and ideas to make next year's conference an even greater success!